about COVID

Dear Customer,
Thank you for your wish to come and discover Provence and stay at our Little Carpe Diem campsite this summer.
The campsite has been open since May 10, 2021
But for now, the latest government decisions limit us a bit in your reception:
- The bar (terrace and room) will not be open "on May 19"
- The swimming pool will not be accessible "on May 19"
- The "curfew" schedule from 7:00 p.m. to 6:00 a.m. will be strictly observed, even within the camping services
For our foreign holidaymakers, we have no particular restrictions on your reception during your trip, but:
1) When you enter France, you are asked for a "negative PCR test of less than 72 hours"
2) you are asked to strictly respect the "curfew" schedule from 7:00 p.m. to 6:00 a.m.
Whatever your case, we invite you to respect the travel rules in force, but at Little Carpe Diem, neither Sylvain nor Mélanie will ever have the authority to check and control that you are in good standing. We take care of your welcome, not your control :-)
Here, the campsite is ready to welcome you, and Sylvain & Mélanie have been working hard to improve the comfort and spirit of "Little Carpe Diem" even more.
…However… "Covid" means that we have had to adapt our services so that everyone can feel safe and enjoy their stay in the best possible conditions, therefore:
- Our bar (terrace and interior area) will not be open to guests, but we will be able to offer you a "takeaway" drinks service.
- The pool will be open but there will be a limit to the number of people and a "circular access" has been set up with a separate entry and exit.
- The shared bathroom facilities have been adapted in the same way, with a "circular" access and exit system and a limit to the number of people present at any given time.
All of this has been designed to ensure that it is easy for you, our guests, to implement the necessary protection measures that limit the spread of the virus. Our aim is to ensure that this can be done spontaneously without spoiling your holidays and the tranquillity of Little Carpe Diem!
Therefore, we are counting on you to follow the few instructions displayed on the various information boards around the campsite that are designed to ensure the well-being of all!
Note that the only closed place of the campsite in which the mask is COMPULSORY is the bar room (drinks, ice cream and morning bread service ...)
All the other campsite services remain accessible and will simply require you to comply with social distancing measures.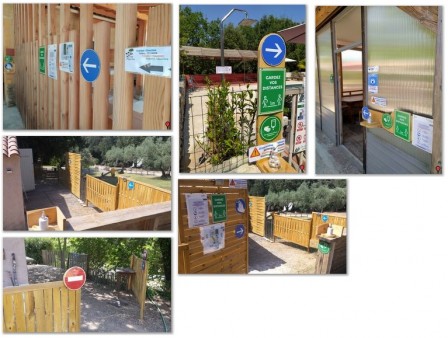 We remind you that by definition, campsites are : This is particularly the case in our nature campsite!
Since the first day of opening since the start of the pandemic, Every day we apply the health protocol of the FNHPA (National Federation of Outdoor Hotels) established in close coordination with the government and health authorities.
We welcome you by explaining the measures in place and how to comply with them.
, and that the latter, established annually, has not been modified relating to the health crisis we are experiencing, in 2020 as in 2021 :-)
We remain confident during these very unusual times and assure you that all these measures will not in any way affect the pleasure we have in welcoming you to our campsite this year or at a later date!
Kind regards
Sylvain & Mélanie