Who are we ?
Sylvain and Mélanie invite you to share their respect for nature and the environment. Therefore, you'll find that Les Olivettes is a well-maintained and cared-for establishment integrated into its natural environment.
Energy saving

The campsite produces over 50% of its sanitary hot water using solar panels, night lighting is provided by solar lamps and all the lights are fitted with low-energy bulbs.
Water management
We have fitted all the public taps with water savers and all the toilets with dual flushes. The plantations are sprayed drop by drop or by hand with untreated water from the Provence canal. Finally, we only use approved cleaning and maintenance products.
Waste management
The campsite uses waste sorting and composting. For this purpose, containers are available by the entrance and bio-buckets are provided for your food waste.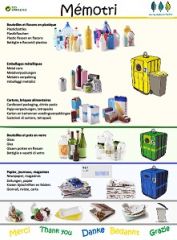 The containers :
Green for glass
Yellow for plastic bottles, metals and food packaging
Grey for household waste (this should be in a closed bin bag); packaging containing food waste should also be disposed of in this container
Newspapers and magazines and used batteries are collected in the bins in reception